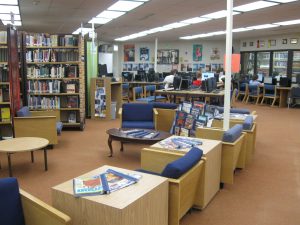 LIBRARY HOURS: Monday through Friday 7:15-4:30.
The late bus departs at 4:15. If you would like to ride the 4:15 bus please speak to Ms. Wear, call her at 260.7036, or email her at twear@kpbsd.k12.ak.us.
The library has nonfiction and fiction books, as well as various magazines and the Clarion. We also have online reference sources. The Links to these can be found on the right sidebar of this webpage.
KPBSD also provides select ebooks and Audiobooks through Overdrive: https://kenaihsak.libraryreserve.com. Use the same log in that you use for district/school computers. (Teachers use a 9 in place of your e).
Additional information:
You must bring a pass from your teacher if you come to the library during class time. You MUST sign in and leave the pass at the circulation desk.
Students have access to a color printer, scanner, copier, construction paper, poster board, and art supplies.
Drinks are  allowed during school hours. Food and drinks are allowed from 2:15-4:30 for those that choose to come in and work on their own time after school.
The check out period for books is 3 weeks. After that you can renew the book by emailing Ms. Wear or coming to the library. You do not have to have the book with you to renew it. We do not charge overdue fines.
There is a link on your DESKTOP to our online catalogue, OPAC (desktop icon FIND IT). If we don't have a book you want then we will gladly borrow it from another library.